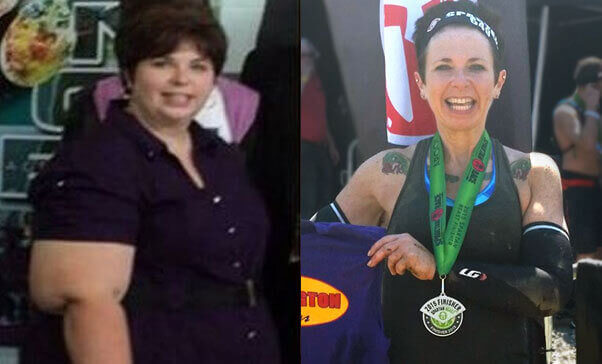 Studies show that those who adhere to a vegan diet have a lower body mass index than that of their meat-eating counterparts. In addition, meat-eaters consume more calories and fewer vegetables, on average, than vegans do. This feature showcases eight people whose weight-loss success stories came about thanks in large part to their decision to choose an animal-free diet. Compassion and health go hand in hand—just ask these inspiring people:
1. Robert and Jessica
After realizing that our food and exercise habits were affecting our children negatively, we arrived at the conclusion that they deserved more than to watch our health fall apart at a young age. We started very simply—Jess took up Zumba. Meanwhile, I began playing tennis, a former favorite pastime from my childhood, and once the rust chipped away from all the parts I hadn't moved in years, I began to feel exhilarated. The effort and feeling of competitiveness were addictive.
Read More

Our food habits changed much more slowly, as I was convinced that all we needed was to reduce our portions to reclaim our health. We became much more disciplined in our cooking and eating, ensuring that when we made our favorite foods, we made just enough for everyone to have a single serving. We began to see the weight slip off us, and more importantly, we began to feel stronger, with a growing sense of confidence in ourselves.

Encouraged by our initial success, we began reading everything we could about food, nutrition, the horrors of factory farming, and organics and how these things were either a help or a detriment to our bodies.
Our level of activity was ever growing over the course of our journey. We registered for our first 5K in December 2012, and our enthusiasm for running grew from 5K to 10K races, and eventually, I completed my first marathon, after hundreds of hours of training. We are now looking forward to our next challenges, our next races, and our next meals, which, as of just recently, are all 100 percent vegan.

We sought during this process to change many aspects of our lives, and this ultimately yielded information that led me to return to school in pursuit of my medical degree and led Jess to enroll in school to obtain her art degree. We have grown more confident, more intelligent, and more compassionate—especially toward the animals who are seen socially as mere products instead of the wonderfully intelligent, sentient beings they are.
2. Keyrah
After many years of unhealthy eating I found myself at 288 pounds. I knew how I got there but I had no clue how to fix it. Would I always be overweight? Would I ever like what I see and love how I feel? I had so many questions. I remember saying, "Keyrah, you have to do this!" I have two daughters that I did not want to leave, and I didn't want to miss graduations and weddings due to a weight-related early death. But how to change? After many failed attempts at multiple weight loss tricks, programs, and diets, I was still stuck!
On March 1, 2015 my life completely changed. I became vegan! I started by trying a plant-based instructional detox which was a vegan meal and exercise plan. I lost 19 pounds by day 11 and I was amazed, encouraged, and excited. Becoming vegan has been the best decision of my life. Not only did I lose 100 pounds in 10 months, I have also been able to inspire many people to become vegan by allowing them to watch my 128 pound weight loss journey on social media.
Read More

I began to notice an unexpected result of my weight loss journey—I was receiving hundreds of messages and emails daily. I tried to respond to everyone individually and it became nearly impossible, so I met with my health advisor Tori from LOJ FitClub, who is also vegan. He helped me bring the detox to others, in order to help start their vegan health journey. I am now 160 pounds. I'm happy, healthy, and I'm excited about having the freedom to inspire others. I would love for you to stay connected with me and the motivation nation and here's how.
3. Alicia
I went vegan as a stressed-out graduate student who cared about animals, the environment, and workers' rights. At that time, my own health was the last thing on my mind—I was just trying to make it through all-night writing sessions by scarfing down French fries and cookies, and I definitely didn't think I had time to exercise.
Read More

Almost as soon as I finished my degree and started working normal hours, I realized that I now had time to invest in myself, so I started going to the gym. My membership came with a few free personal training sessions, and when my trainer asked me about my diet, I told her I was vegan. To my surprise, she said she was vegan, too! She also told me that since I was already eating plant-based foods, I should be able to shed the extra pounds easily, and she was right. By adding exercise to my routine, as well as cutting back on the fries and cookies (don't get me wrong—I still eat those sometimes) and eating more unprocessed fruits, vegetables, and whole grains, I was able to improve my health and lose about 70 pounds of weight that I didn't need.

Now, despite my busy schedule as a working mom, I still work out regularly with the PETA Pack, and I honestly feel younger now than I ever did back in my unhealthy student days. For anyone who is looking to improve his or her health, I definitely recommend starting by going vegan—not only can it help those who want to lose weight to do so, but vegetarians also have lower rates of heart disease, cancer, and diabetes. Plus, you'll save water, reduce your carbon footprint, and save nearly 200 animals every year.
4. Kelly
I was born and raised in Pennsylvania, and I grew up on the standard meat- and dairy-based diet that most people eat today. By age 16, I had developed exercise-induced asthma, making it difficult to exercise; my vision got worse and I started wearing contacts; and I fell sick several times a year. By age 18, I was struggling with my weight and had become obsessed with calorie restriction. At this point in my life, I had limited nutritional knowledge and didn't see the connection between my diet and my health. I would do restrictive dieting or run an hour a day for quick weight-loss results, then lose control and gain all the weight back.
Read More

At age 24, I met my husband, and I gained 50 more pounds during my pregnancy with our first child. After watching Forks Over Knives and reading several nutrition books, I decided to cut out the foods that were most likely to cause weight gain—red meat, dairy products, and egg yolks. I never considered myself a vegetarian or vegan on this diet until a couple of months later, when I decided to give up chicken and fish and animal byproducts after learning about cruelty to animals. I have been fully vegan for 3 1/2 years now.

Who would have guessed that choosing compassion and plant-based foods would get me, a mom who weighed 200 pounds after my son was born, into better shape than I ever was? I lost 75 pounds, my total cholesterol dropped to 150, my vision improved to 20/20, and my exercise-induced asthma disappeared regardless of workout intensity. My weight loss and muscle gain inspired me to become a certified nutrition coach and personal trainer to share my knowledge. Over the past three years, I have helped more than 100 people get fit by eating plants to fuel their workouts with my vegan-owned and -operated business, Kelly Athletics LLC.
5. Victor
If you'd asked me four years ago if I pictured myself where I am now, I would have told you, "NEVER!" I was at a stage in my life in which I battled depression, being overweight, and having suicidal thoughts. Deep down inside, I always knew since a child that eating animals was not the kind thing to do, but it wasn't until I became an adult that I decided to make the changes necessary to help remedy the situation. So I went vegan. Then came the exercise.
Read More

I got involved in different martial arts, including capoeira and karate. It was this combination of martial arts and plant-based eating that made it so that the body fat melted off me. Years later, in continuing this trend, I started doing things I never imagined possible: handstand pushups, manipulating fire in my fire nunchaku performances, and lifting another person on my hands in acrobatics. By choosing to live in a way that lets animals live, it took me out of the path of death that I felt I was on and led me into a state of being full of life. In a sense, much like the superheroes I read about in my comic books, veganism granted me superhuman powers I never imagined possible. Do I recommend veganism? You bet! It saved not only my life but also the lives of animals.
6. Eric
Before my transformation, I weighed in at 280 pounds and had a 50-inch waist. I was 51 at the time, and my doctor told me that unless I made immediate changes, I would probably live less than five years because of my poor health, which included type 2 diabetes, high blood pressure, and high cholesterol. My medications cost more than $1,000 per month.
Read More

I decided to take action when I saw President Bill Clinton interviewed on CNN talking about The China Study and the healing power of a plant-based diet. I bought the book and hired a nutritionist, who told me that I could cure all my medical problems by going vegan and avoiding processed sugar.

In addition to switching to a plant-based diet centered on whole foods, I started to exercise. At first, I was unable to tie my shoes without being out of breath. Then by walking every day with my adopted dog, Peety, my stamina began to improve. Now, I'm running an average of 40 miles each week and plan to run five full marathons and between 15 and 20 half-marathons this year.

Today, I take no medications, am down to 175 pounds, and have a trim 32-inch waist. My type 2 diabetes is gone, my total cholesterol is 130, and my blood pressure is 96/60. At 53, I can compete athletically with most 25-year-olds.

It is my greatest wish that others will achieve the happiness I've achieved, which is possible just by making this one dietary change in their lives. But you don't have to be a marathoner to see great results. Many will see a drastic improvement just by switching to a vegan diet and walking for a half-hour several times each week! And this is why I joined the PETA Pack, because it combines everything I enjoy: healthy plant-based nutrition, running, and a love for animals.
7. Stephane
At the age of 45, I was struggling with many health issues: I had high blood pressure and borderline diabetes, my knees were hurting, and even though I was a vegetarian, I weighed 280 pounds. I was eating a lot of dairy products. Soon, I became frightened because walking was difficult, and I couldn't even imagine running. But I started to read about going vegan and the horrible dairy industry. It really opened my eyes, and as soon as I cut dairy products out of my diet, the weight started to come off. I joined a gym. The stares, the giggles—I endured them all. But I went every day. I did my first "boot camp" classes at 255 pounds.
Read More

I was hooked. My friends started joining me in my training. They had plateaued in their weight loss, but not me, and I credit my vegan diet with my consistent weight loss. In addition, I always had energy, and I never felt bloated or lethargic.

I am now a runner, and now that I am training full time in order to compete, I recuperate in a flash. At age 48, I am beating records and finishing before people half my age. Why? You know the answer by now.

I went from 280 pounds to 135 as a mother of three! I tell myself every day that true strength comes from plants but, more importantly, from compassion.
8. Eve
I stepped onto the scale, and I was dumbfounded. The number 340 registered on the digital reading. At 24 years young, I exhibited the onset of kidney dysfunction, hypertension, high cholesterol, sleep apnea, and an irregular heartbeat. I was told that my next step would be gastric-bypass surgery. My future would be filled with prescription drugs, hospital visits, and disability if I didn't make a change.
Read More

I was in Las Vegas with my brother and sister-in-law, who are vegan, so I was excited to try some vegan cuisine. I had toyed with the idea of going vegan because of the animals and because I had heard that there are health benefits, but up until that day, the only big decision I was willing to make was "Do I want a large or an extra-large fountain drink?"

I went back home to San Diego and started researching. I was startled. No, I was horrified. The more I researched the subject, the more I realized that going vegan was the best choice for me—and all the animals, too. I started going to vegan stores and reading vegan blogs. I started my first vegan food blog called Eve's Tasty Apples to share my excitement about and passion for my newfound lifestyle. I didn't have to diet. I didn't have to worry about splurging or feeling insanely full and disappointed in myself for eating a certain way. Veganism allowed me to feel full in both body and spirit.

My passion for physical activity was equal to my passion for cooking. I loved the opportunity that vegan cooking offered in the way of ingredients and creativity. I started turning my favorite omnivore recipes into vegan masterpieces. I became so passionate about vegan food that I started hosting cooking classes in homes and at a vegan restaurant called Casa de Luz. With the "Meatless Monday" movement catching on, I wanted to demonstrate what was possible by incorporating meatless meals into people's diets.

Recently, I completed my first triathlon. From self-defeat to triathlete! While crossing the finish line, I was reminded just how far my course had taken me—much farther than just the distance of the triathlon—since I had realized in Las Vegas that I had lost control of myself and wanted it back. I'm the product of what's possible when you stop focusing on the reasons why you can't do something and go full-heartedly for the result that you want to create. I'm an example of what's possible with a vegan lifestyle.
Feeling inspired? Check out PETA's vegan recipes.
If this article is making you question your current lifestyle, then we have just the thing for you: our free vegan starter kit, with tips and information about going vegan. For animals, the environment, and your health, order one today.