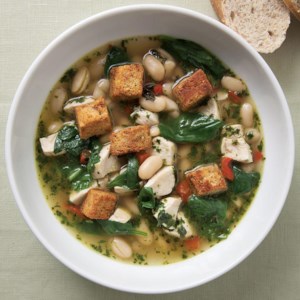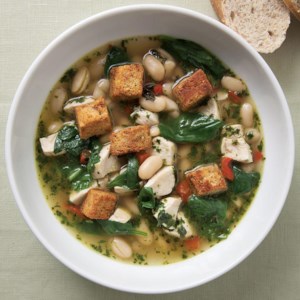 Chicken & Spinach Soup with Fresh Pesto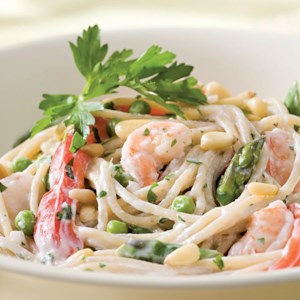 Creamy Garlic Pasta with Shrimp & Vegetables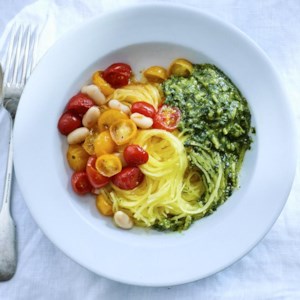 Spaghetti Squash with Roasted Tomatoes, Beans & Almond Pesto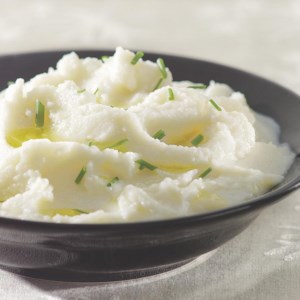 Creamy Mashed Cauliflower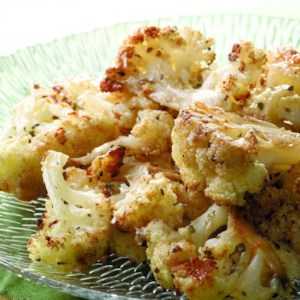 Balsamic & Parmesan Roasted Cauliflower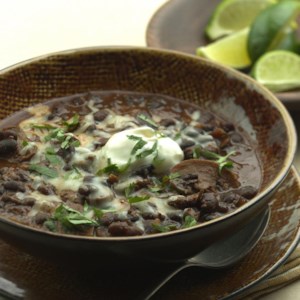 Slow-Cooker Black Bean-Mushroom Chili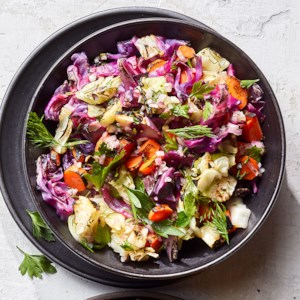 Grilled Coleslaw with Lemon-Herb Vinaigrette

Grilling cabbage and carrots gently softens the crunchy vegetables for a smoky yet still crisp version of a favorite summer side in this easy coleslaw recipe. For an easy grilled dinner, cook some chicken, fish or veggie burgers alongside the vegetables.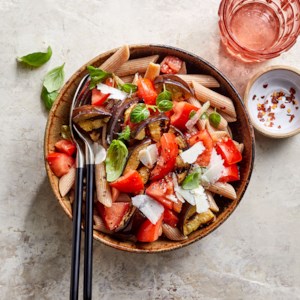 Grilled Eggplant & Tomato Pasta

The combination of slightly smoky grilled eggplant and sweet tomatoes is delightful. The eggplant-tomato mixture served over whole-wheat pasta with fresh basil and a bit of salty cheese makes an easy, healthy weeknight dinner.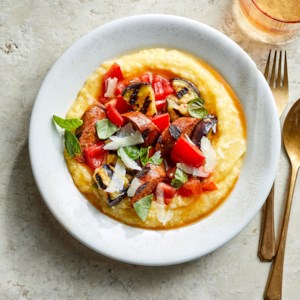 Grilled Sausage, Eggplant & Tomatoes with Polenta

Grilled eggplant and sausage are paired with chopped fresh tomatoes and served over creamy polenta in this easy summer dinner. Swap the polenta for whole-wheat pasta for a faster meal.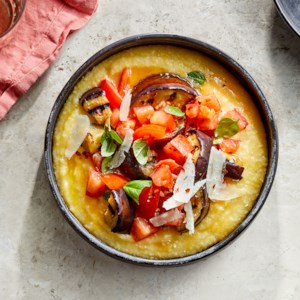 Grilled Eggplant & Tomatoes with Polenta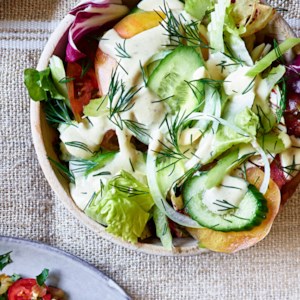 Chicory Salad with Banded Rudderfish "Tonnato"

This healthy fish recipe from chef Mike Lata is made with banded rudderfish, which is an amberjack–a species coveted in sushi restaurants, where it's known by its Japanese name, hamachi. Lata's love affair with the Italian dish vitello tonnato (cold sliced veal with tuna sauce) started with a glorious one he had in Milan. He's found the sauce to be a great way to use the scraps that result from butchering whole fish. He serves thicker versions over cold poached meats and thinner ones like this over vegetables and salads.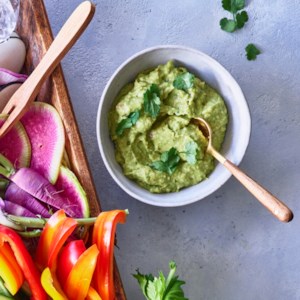 Spicy Avocado Hummus

Guacamole meets chickpeas for a Cali-Middle East mashup in this healthy avocado hummus recipe. Jalapeños can be hot or not so much–taste and adjust for your palate.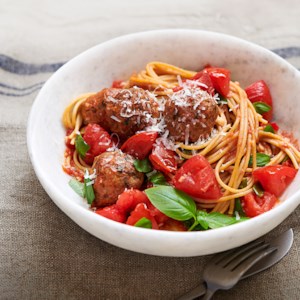 Spaghetti & Chicken Meatballs with No-Cook Tomato Sauce

This crowd-pleasing and easy dinner recipe takes just 20 minutes to make, start to finish, so it's perfect for weeknights! When tomatoes are at their in-season best, just a quick chop and a few ingredients are all you need to make a spaghetti sauce in minutes. Store-bought chicken meatballs keep the low-effort theme going all the way to the table.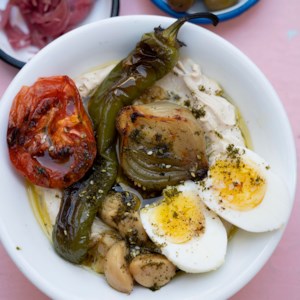 Hummus with Slow-Roasted Vegetables

Serve these vegetables and super-lemony hummus with warm pita bread and a sprinkle of fruity za'atar, and you'll be transported to the hustle and bustle of Tel Aviv, Israel's iconic Mediterranean coastal city. This is the perfect healthy appetizer or element of a party board for any gathering.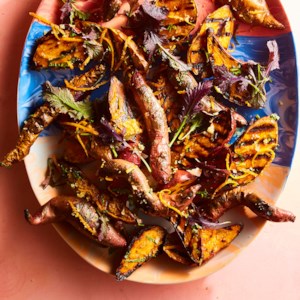 Grilled Sweet Potatoes with Gremolata

Sweet potato fingerlings (or small wedges) blister and caramelize on the grill. All they need is a final toss with a little butter and a blend of orange zest and mint and you have a healthy side dish that's anything but ordinary.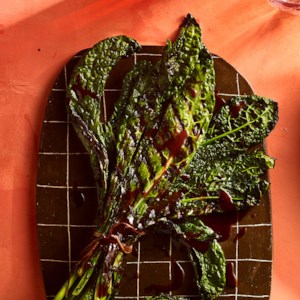 Grilled Kale Bundles with Sour Cherry-Chipotle Drizzle

For this healthy side dish recipe, kale bundles are grilled and topped with an easy sauce. "Enhancing" store-bought barbecue sauce with tart (or sour) cherry juice to make a drizzle nudges this side dish into the speedy category.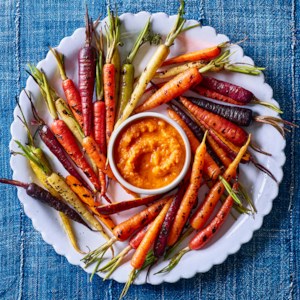 Grilled Carrots with Smoky Ketchup

Rainbow carrots are a feast for the eyes in this healthy and easy side dish, although any colors will be just as tasty. If you like, save some of the carrot greens for garnish.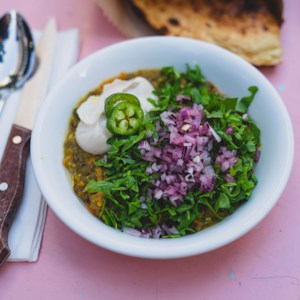 Green Lentil Curry Masabacha

Masabacha is a thick stew that in this case serves as the backbone to a hearty and healthy breakfast bowl. But the real star here is the silky whipped tahini sauce, made by simply pureeing tahini and water with garlic and lemon juice until the mixture is transformed into a light, spreadable sauce. Serve with warm pita and some vegetables for dipping.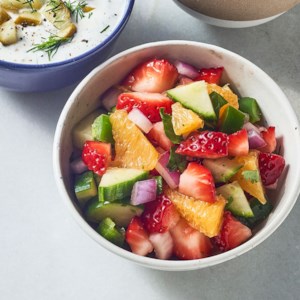 Fruit & Cucumber Relish

Celebrate spring with this colorful and crunchy fresh salsa recipe! The healthy relish is a fabulous accompaniment for grilled fish, pork, chicken or beef.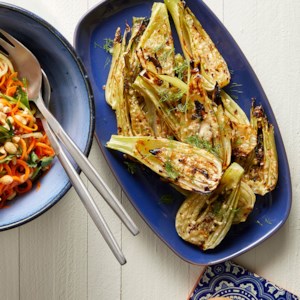 Broiled Fennel with Parmesan Cheese

The nutty saltiness of Parmesan cheese is an excellent match for the sweet, delicate licorice flavor of fennel in this quick and easy side dish recipe.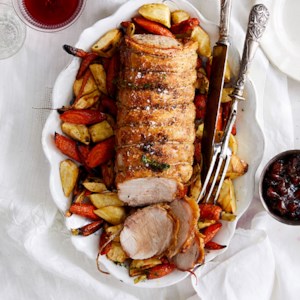 Irish Pork Roast with Roasted Root Vegetables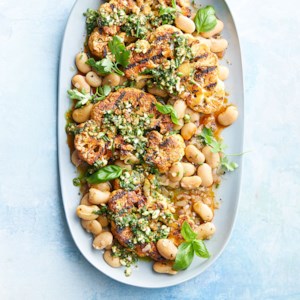 Grilled Cauliflower Steaks with Almond Pesto & Butter Beans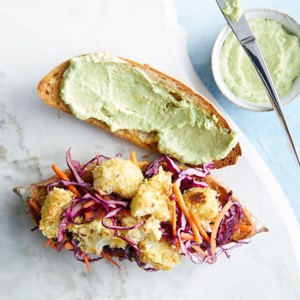 Cauliflower Po' Boy Sandwiches with Avocado Mayo

Crunchy oven-fried cauliflower is a satisfying swap for the meat or fried seafood that typically packs this New Orleans favorite. Creamy avocado mayo and crisp cabbage slaw provide additional layers of flavor and texture.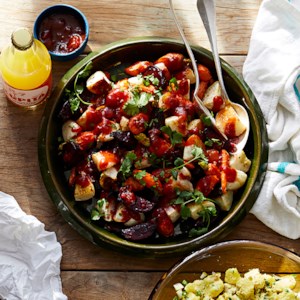 Honey BBQ Roasted Root Vegetables

In this veggie-forward spin on Texas-style barbecue, we swap the traditional brisket for root vegetables and rely on the chipotles in the sauce to bring the smokiness to the table. These vegetables are a versatile side for all sorts of mains, whether you're in the mood for meat or want to go vegetarian with grilled tofu or a bean dish.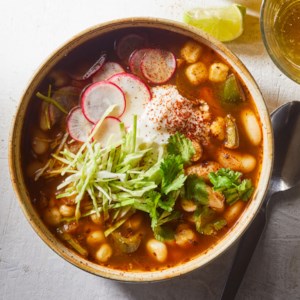 Vegetarian Slow-Cooker Pozole

This healthy vegetarian take on the Mexican stew pozole gets tons of flavor from poblano peppers, ancho chile powder and dried herbs and spices, while cannellini beans provide substance, protein and fiber. Chewy hominy–corn that has been treated with lime to remove the tough hull and germ–is integral to the stew. Look for it in cans in the Latin section of your supermarket. Serve the stew with shredded cabbage, radishes, fresh cilantro and sour cream.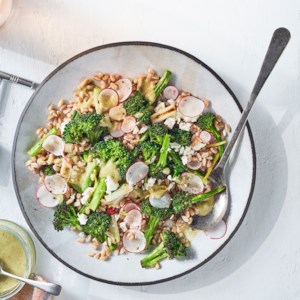 Whole-Grain Salad with Charred Broccoli, Spring Onions & Parsley-Sumac Vinaigrette

For this easy healthy salad, chef Hugh Acheson shows the power of charring vegetables as a way to add interest to a salad. This flexible recipe can be made with a variety of whole grains, such as wheat berries, farro or pearl barley. The salad revels in the spring arrival of radishes, spring onions and bright green parsley. Sumac, which is commonly used in Middle Eastern cooking, adds a touch of tartness. Look for it in well-stocked spice sections at your market.