1. Cranberry Juice → Lose 5 Lbs. in 7 Days
60 ounces distilled water.
1 Tablespoon sugar free cranberry juice.
1 Dandelion root teabag.
2 Tablespoons of lemon juice
Drink (this recipe ONCE everyday) for 7 days to lose at least 5 pounds
Watch the 30-second video above to better understand.
This works because Cranberry Juice, Dandelion Tea & Lemon are Natural Diuretics that'll flush out false fat or excess water weight very fast.
Studies reveal the anthocyanin in cranberry juice lowers cholesterol levels and enhances weight loss. Cranberry
juice can also cleanse the body of alcohol, marijuana & nicotine in less than four days.
2. Ice Cold Water → Lose 20 Lbs. in 1 Week
Burn an extra 100 calories per day drinking ice cold water because,
Your body has to burn fat to heat the
ice cold water back up to your body temperature. You'll Lose an
extra 10 lbs. a year just by drinking ice cold water.
Water before meals makes you eat less & lose more weight (see
step #3 here)
Water curbs your appetite because being thirsty tricks you into thinking
you're hungry.
Water allows
your liver to burn more fat. (see why)
Water makes your stomach flatter by flushing out excess water weight.
I had a client who lost 20 pounds in 1 week
after adding water to his diet
because he was so bloated. Stew Smith, Strength and Conditioning Specialist (CSCS)
3. Raw Honey
Believe it or not, you could drop a whole dress size in 3 weeks if you take a spoonful of organic raw honey every night before sleeping. Based on the hibernation diet, there is a strong correlation between weight loss and raw honey rich in fructose.
Research
says honey is an excellent obesity treatment when it is combined with
lemon juice
Recipe: Prepare a glass of hot water, dissolve 3 tablespoons of raw honey & drink right before sleeping every day.
Raw honey for better looking skin
4. Milk
Milk is high in calcium and study after study says
2 things,
Calcium suppresses calcitriol which is a hormone that basically makes you fatter and with calcitriol out of the way… Your body breakdowns fat faster. Foods high in calcium
Calcium suppresses your appetite preventing you from gaining weight allowing you to lose more weight as you eat less.
42 ways to lose weight without being hungry
5. Lemonade
Lemonade is a potent weight loss drink because it flushes out toxins, rich in vitamin C, cleanses the liver & it carries polyphenols preventing diet-induced weight gain
Recipe
Squeeze 3 tablespoons lemon juice from fresh lemon fruits.
Add 250 ml of clean water.
Add ½ inch of cinnamonto
stabilize blood sugar & reduce appetite
Add a pinch of cayenne pepper to increase your core body temperature boosting your fat-burning metabolism
Add raw honey for taste.
6. Yogurt Smoothies → Lose 81% More Belly Fat
Not only will the thickness of the smoothie

kill your appetite but because yogurt is loaded with calcium
like
milk… This Study
shows you'll
lose 61% more fat and
81% more belly fat when adding yogurt to your
diet.
Not only did yogurt help the study participants lose more weight —
the average weight loss was 14 lbs. — they were about twice as effective at maintaining lean muscle massMichael Zemel, PhD, professor of nutrition at the Univ. of Tenn.
The Top 5 Weight Loss Smoothie Recipes
7. Green Tea
You'll burn 35-to-43% more fat daily drinking
3-to-5 cups of green tea or using a supplement
Green tea contains caffeine which
increases your fat burning metabolism
Green tea is a diuretic which flushes out excess water weight.
Why She lost 106 Lbs. drinking green tea
8. Protein Shakes
Because protein helps you release lots of appetite suppressing hormones
like cholecystokinin or CCK… People in this study
ate a lot less when drinking protein 90 minutes
before going to a buffet.
High protein
drinks are highly thermogenic meaning your body has to work extra hard
to digest it. 7 Myths Surrounding Protein Shakes
Whey protein is the most effective dietary strategy to aid weight loss because it is the most thermogenic food source you can eat. This means it burns the most calories after you eat it. Paul Arciero, director of the Human Nutrition and Metabolism Lab at Skidmore College
9. Coffee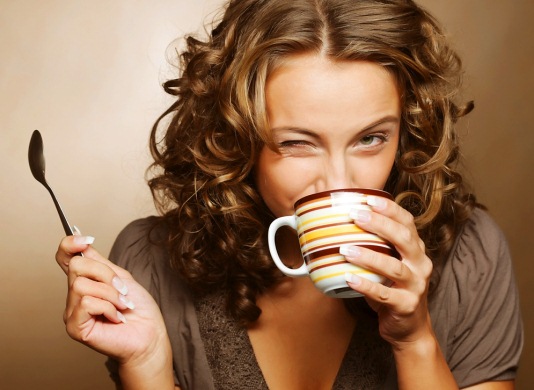 The caffeine
in coffee suppresses your appetite, increases your metabolism & gives you more energy during your
fat burning workouts
making you last longer and work harder to lose weight faster but,
Drink no more than 1-to-2 cups per day.

Using coffee to lose weight
10. Vegetable Juice or V8
Drinking a glass of vegetable juice or water before your meals causes you to
eat
at least 135 less calories according to a study done at Penn. State University.
Less calories = More fat loss.
More Weight Loss Drinks
How Tequila Helps You Lose Weight
8 Fat Loss Teas
10 Green Juice Weight Loss Recipes
Weight Loss Foods
Top 17 Foods for Faster Weight Loss
302 Weight Loss Foods
36 Foods NOT to Eat to Lose Weight
Super Foods
15 Foods that Increase Your Sex Drive
3 Foods that Reduce Inflammation
More Tips
Leave a Comment
Adrian Bryant
first thing you need to do is triple check your calorie intake. are you sayng the only type of calories you track is carbs?
April 01, 2018
Cheryl
No, My food is about 70%carbs (rice, bread)..should i tract my calories individually like for example instead of looking into per cup of vegetable salad-i will put how much of each vegetable i put on my salad…i am completely at lost and frustrated since i started intermettent fasting my weight goes from 57kg then 56.7kg then when i weight again yesterday i am at 57.7kg 🙁 please guide me, there must be something i am missing..
April 02, 2018
Cheryl
Ok Adrian, i will follow this-stand by for my updates!!Thank you for your patience i really appreciate it!
April 03, 2018
aerfqa
are they like V8
February 26, 2018
Adrian Bryant
you mean all you're going to do is just drink water/liquid?
December 13, 2017
Adrian Bryant
no special time for weight loss as long as you eat the right amunt of calories to lsoe weight. see this
October 13, 2017
Tiffany
Thanks Adrian! I was just trying to make sure my smoothies were ok to replace the V8. Unfortunately I have gained quite a bit of weight and am over 30lbs from my goal of 120-125 (currently 156). I know the emergency plan is not permanent so I should I switch to the regular plan when I get back from the conference?
April 12, 2017
Adrian Bryant
is your protein intake higher now and what is yoru height?
March 30, 2017
Adrian Bryant
I know about green tea and its actually better to use green tea pills b/c you need to drink lots of cups to get equal benefits to one pill
dont know about 2nd option you mentioned
February 21, 2017