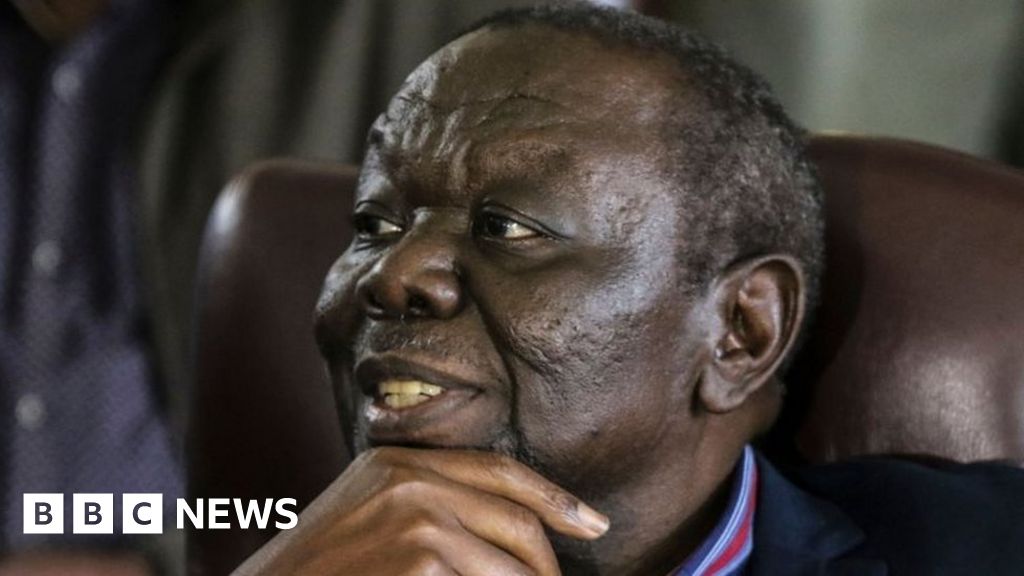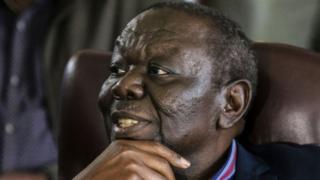 Image copyright
AFP/Getty Images
Image caption
Mr Tsvangirai founded the opposition MDC party in 2000
Zimbabwe's main opposition leader Morgan Tsvangirai is critically ill in a South African hospital, reports say.
Local media quoted family sources as saying the 65-year-old former prime minister – who is being treated for colon cancer – is suffering from weight loss, exhaustion and muscle thinning.
Mr Tsvangirai's MDC party says reports about his health are exaggerated.
During his political struggle against ex-President Robert Mugabe, he has been beaten and imprisoned numerous times.
What is known about Tsvangirai's condition?
Mr Tsvangirai has been in and out of hospital since June, receiving treatment in a Johannesburg hospital for cancer. He returned to the hospital early last month.
His health deteriorated rapidly on Monday, family sources told Zimbabwe's Bulawayo24 news website on Tuesday.
Mr Tsvangirai had lost appetite and had difficulty eating or swallowing fluids, the sources said. He also reportedly had breathing problems.
Meanwhile, a senior Movement for Democratic Change (MDC) party member who refused to be identified told the BBC that Mr Tsvangirai was in poor health – but that he was conscious and speaking.
The party was waiting for further updates from South Africa's main city, Johannesburg, where Mr Tsvangiari was being treated, the source added.
Earlier, Mr Tsvangirai's spokesman Luke Tamborinyoka was quoted as saying the MDC leader was "stable but the nation should keep on praying".
The hospital where Mr Tsvangirai is being treated has so far made no public comments on the issue.
How could this affect future elections?
Last November, Mr Tsvangirai hailed the resignation of Robert Mugabe, expressing hopes that Zimbabwe was on a "new trajectory" that would include free and fair elections.
He said that Mr Mugabe – who was forced to quit after ruling the country for 37 years – should be allowed to "go and rest for his last days".
Image copyright
AFP
Image caption
Mr Mugabe shakes hands with Mr Tsvangirai after a power-sharing agreement in 2008
Mr Tsvangirai's illness has divided the MDC, with a number of party officials reportedly jockeying to succeed the former trade union activist.
This has raised concerns about the party's political future, and its chances of taking on the ruling Zanu-PF party in presidential elections expected within six months.
In November, Mr Mugabe was succeeded by the former vice president, Emmerson Mnangagwa.